Clever Tom and the Leprechaun
retold by Linda Shute from Croker's Legends and Traditions of the South of Ireland [ 1798-1854].
"The Field of Boulians" [bowl-YAWN]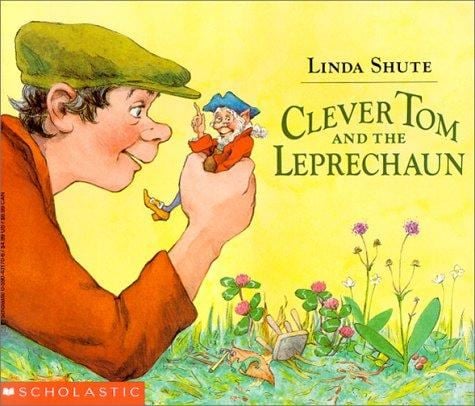 Trickster
Ballincollig, Ireland

Field of Boliauns or Ragwort/ Ragweed.
1. Leprechaun Folklore – is more Scottish [ Danish/Viking/Norse legends]
2. Vikings/ Danes buried the treasure in Ireland 795 – 1014 AD
3. Boliaun or Ragwort is magical for Fairies it protects them & they can sometimes change into horses.
4. Legend: only the Leprechauns know now where the gold is buried.
5. Solitary creatures who repairs shoes for the dancing fairies – or half the shoe.
6. Leprechauns wear red, dancing or trooping fairies wear green.
7. The word leprechaun has various names throughout Ireland,
Croker claims laucharma'n is the Irish word for pygmy.
8. A trickster who cannot be outsmarted.
How smart are these kids – can they name all the counties in Ireland?
Can you name all the states?