Big Idea: 
I will learn about the 2018 award books for Children – Including the Caldecott Award for Illustrations and the SSYRA Jr. Books.
2. I will review the Parts of A Book – using one of the Award Books as an example.
Vocab:  Caldecott  — Newbery
SSYRA – Sunshine State Young Reader Award JR
ALA– American Library Association
Parts of a Book Vocab Review – Younger
Title — Author — Illustrator — Spine — Call Number/Letters – AR Color
Online Catalog Review – Older
Keyword — Subject — Author– Title – Format – ATOS – Format – E Book
Caldecott – For Best Illustrator – usually a Picture Book
2015 – Finding Winnie
Finding Winnie is an incredible account of the friendship and love shared between a soldier and the real bear who inspired Winnie-the-Pooh. Blackall beautifully interprets this multi-dimensional family story through her distinctive Chinese ink and watercolor art, capturing intimate and historical details perfect for a child's eye.
2016- Adventures of Beekle
In four delightful "visual chapters," Beekle, an imaginary friend, undergoes an emotional journey looking for his human. Santat uses fine details, kaleidoscopic saturated colors, and exquisite curved and angular lines to masterfully convey the emotional essence of this special childhood relationship.
2017- Radiant Child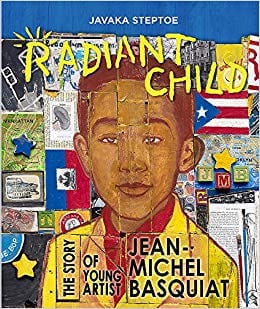 Like Jean-Michel Basquiat's work, Steptoe's illustrations radiate energy and immediacy. A patch-worked canvas of scavenged wood, painted and collaged with photos, and images of human anatomy, evokes the improvisatory nature of Basquiat's art. "Radiant Child" resonates with emotion that connects Steptoe with Basquiat and Basquiat with young readers.
2018 – Wolf in the Snow
Newbery – For Best Author usually a Novel/ or Chapter Book
2014 – Flora & Ulysses: The Illuminated Adventures 
Comic book fan and natural-born cynic Flora Belle Buckman and Ulysses, a flying, superhero, poetry-writing squirrel, join forces to overcome Ulysses' arch-nemesis, Flora's mother and encounter a quirky cast of characters. Through poignant, laugh-out-loud episodes, this homage to comic books is a testament to the power of love.
2015 – The Crossover
Twelve-year-old narrator Josh Bell uses the rhythms of a poetry jam to emulate the "moving & grooving/popping and rocking" of life on the basketball court with his twin brother, J.B. This powerful novel in verse paints an authentic portrait of a closely-knit family on the brink of crisis. Swish! This book is nothing but net!
2016 – Last Stop on Market Street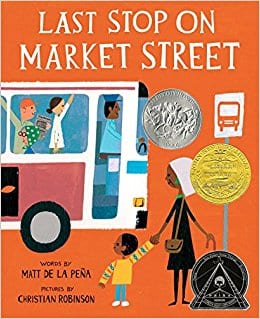 CJ's journey with his Nana is not just a simple bus ride; it is a multi-sensory experience through which he discovers that beautiful music, nature and people surround him.  CJ's questions are familiar, and Nana answers him with gentle wisdom.  Right up until their arrival at the last stop on Market Street, Nana guides CJ to become "a better witness for what's beautiful."
2017 – The Girl Who Drank The Moon
Moonlight is magic. Ask anyone you like." Barnhill's story is also pure magic, distinguished by careful development of a complex plot and indelible evocation of unique characters. Love, heartbreak, hope, sorrow, and wonder all shine in exquisite, lyrical prose.
2018 – Hello Universe
Coretta Scott King Award – African American Author/ or Illustrator
Geilsel [ Dr. Seuss]  Award– Beginner Readers
Sibert Award – Informational
Belpre Award – Latino Author/ or Illustrator
Mildred Batchelder Award – Originating in Another Country
SSYRA JR – State Award for Primary Books